No personal space heaters of any kind, other than College owned and managed equipment, are permissible on College property to assure the safety of the occupants and the protection of property.
 If you are uncomfortable due to the temperature in your office or residential dormitory room, please contact the Department of Facilities at 609-771-2353 or submit an online work order request to report your concerns.
Facilities will investigate and address the situation as appropriate. The College minimum indoor air temperature standard is sixty-eight (68) degrees Fahrenheit (the ambient dry bulb temperature) during the heating season.  If the Department of Facilities determines that the situation does not meet the College's standard for twelve hours or longer, a college-owned and managed, personal space heater will be provided to the occupant until the condition has been resolved. The heater will be collected once the situation is resolved.
Any personal space heaters presently on the campus, that are not provided by or owned and managed by the College, must be removed from the campus immediately.
All College owned and managed personal space heaters shall be identified with a unique identification tag and number, similar to what is shown below. College-provided space heaters without such identifying tags shall be removed by the Facilities department from the space, whether energized or not. If you presently possess College owned equipment that does not have an identification tag similar to the following example, please get in touch with the Department of Facilities and we will schedule a time for its collection and/or replacement.
Example Identification Tag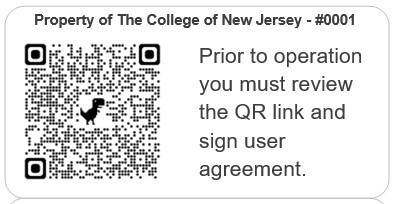 Routine fire inspections are to be performed in all spaces, and any personal equipment will be disabled if found on the premises.
All users of such equipment shall review the manufacturer's instructions for use and associated safety guidance.
The user will need to sign acknowledging the receipt of the heater and the review of instructions for its safe use.
General Use Requirements
Do not use heaters when unattended.
Do not operate the heater if it appears to be damaged in any manner.
Do not use the heater in areas other than dry locations.
The heater must be plugged directly into an outlet and shall be the only device to occupy the receptacle (e.g., do not plug anything else into the same outlet).
Never plug a personal space heater into an extension cord or any power strip.
In accordance with the fire code, no space heater shall be operated within three feet of any combustible materials. Space heaters shall be operated only in locations as indicated in the manufacturer's instructions.
If the heater appears to be operating in an unsafe manner or exhibiting signs of failure, immediately turn the device off and unplug it.
Adhere to the specific manufacturer instructions in all instances.
Personal Space Heater Use Agreement
Before any use of a personal space heater, the user must review and have received:

College provided approval
College provided space
Associated guidance and instructions
Agree to the terms set forth by the College
Equipment Instructions